Premium Durable Gas Grills
Whether you're looking for a natural gas or propane fueled grill, Jackson Energy Authority offers high-quality durable gas grills that can withstand the rigorous tasks of a Grill Master. The Broilmaster grill line features heavy-duty cast aluminum grill heads in multiple options with mountings and accessories to create a custom-designed grill to fit your needs. With many models and optional accessories available, you're sure to find a grill that performs well and is built to last.
When you purchase a premium durable gas grill from Jackson Energy Authority, we make it as hassle-free as possible. Grills can be bought outright or via low-interest financing with payments on your monthly JEA bill. Installation fees cover installation of gas service (if you are currently a natural gas or propane customer and choose to have an endless supply of gas to your grill), delivery and assembly. Discounted install fees apply for existing grill connections. Simply choose your brand of grill, your options and let us know where you want to put it. We offer:
Assembly, delivery and installation
Free service labor for 3 years after installation (parts at customer's expense)
Manufacturer's warranty coverage
Up to 120 ft. of gas service (new installs only)
To see Broilmaster grills on display, visit the JEA Customer Center at 2030 Pleasant Plains Extended. One of our customer service representatives will be glad to help.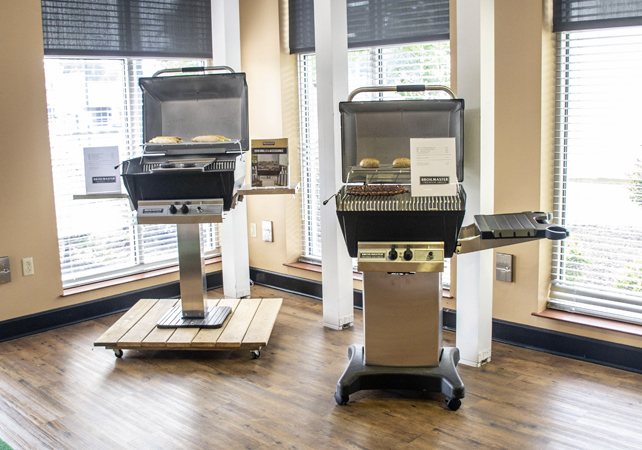 ---
Broilmaster Premium, Deluxe and Stainless Series Grills
Broilmaster has been manufacturing Premium gas grills for over 50 years and is one of few brands that manufacture grills made in the U.S. The Broilmaster line of durable gas grills offers a grill head with a deep bottom casting, multi-level cooking grids, separate burner controls, stainless steel griddles and the Broilmaster exclusive Smoker Shutter feature.
Customize your Broilmaster Premium or Deluxe gas grill to fit your grilling needs with a choice from:
7 gas grill head options
7 base options
6 different side shelf options
2 front shelf options
Accessories such as rotisseries and smoking boxes
Broilmaster stainless grills are wider and deeper to maximize your cooking experience. Each comes fully loaded with a variety of standard features, offering the ability to roast, sear, smoke, grill or bake. Choose from three different models ranging from up to 540 sq. inch cooking area to 918 sq. inch cooking area. Optional accessories include a rotisserie kit, sear burner and smoker tray.
Check out the Broilmaster grills by clicking the resource link below.
---
Resources