Planting & Landscaping Guides
Looking to add a little curb appeal to your home with new plantings? If you are considering planting in your yard and there are no overhead lines on your property, your utility services are underground. It is important to first call 811 at least 3 days before you dig for any reason, to have the underground utility lines marked. This service is available for free and could help prevent unnecessary service interruptions.
When planting, there must be clearance zones around all utility equipment, including meters, service lines and padmount transformers (the big green boxes found in neighborhoods with underground utilities.) This clearance zone allows our crews to safely gain access to equipment in order to perform maintenance or emergency functions. Consideration must be given to the maturity height, size and growth rate of the plant to avoid obstructions. When possible, we do our best not to damage landscaping when working on our equipment. Wise planting can help protect our crews, visibility and prevent damage to pavement, sewers and buildings.
The Arbor Day Foundation suggests the following clearance zones for low, medium and tall trees:
Shrubs & Ornamental trees – 20 feet or less at maturity
Low Trees – Under 25 feet at maturity
Medium Trees – Up to 30 feet at maturity
Tall Trees – 75 fee or more at maturity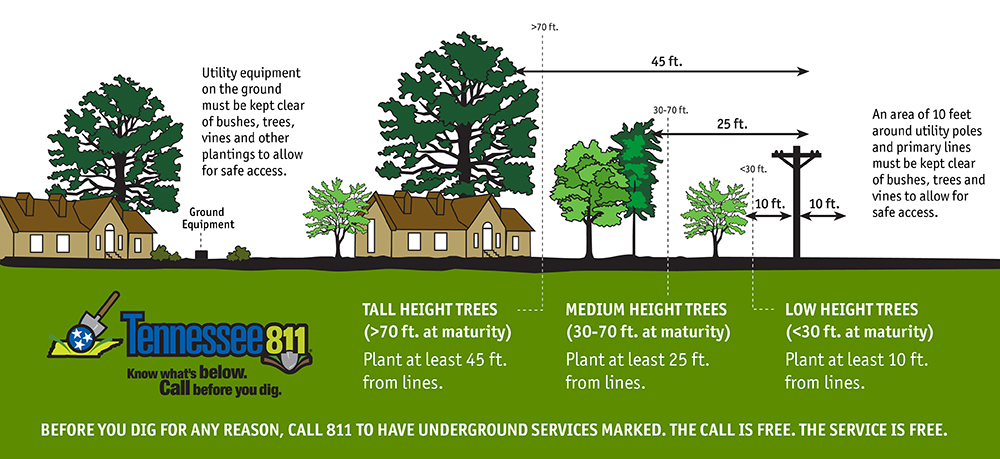 ---
Resources